| | | | |
| --- | --- | --- | --- |
| On Service Model | TLD110 | Excavator Model/m³ | 6-10m³ |
| Annual Production Plan/Mn Tons | / | Temperature/℃ | -25 celcius to  40 celcius degrees |
| Density/T/m³ | 1.8T/m³ | Material Diameter/mm | 60mm-1200mm |
| Gradient/% | 17% | Single Trip Distance/km | 4-6km |
Tonly TLD110 Rigid Dump Truck is currently the largest tonnage domestically-made multi-axle drive、the most advanced technical solution、the highest safety and reliability of mine transportation equipment. Everyone in Xinjiang mining areas is calling it the "king of hundred-ton." The TLD110 mining truck has received wide attention for Its large carrying capacity, high transportation efficiency, high safety.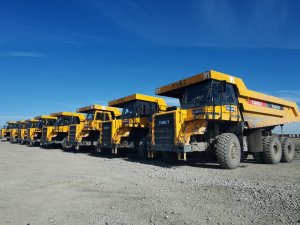 Tonly TLD110 Rigid Dump Truck is mainly used for mining and transportation in large open-pit mines. The rated Payload of TLD110 Rigid Dump Truck is 70T, which fills the market gap of domestic mining trucks with a carrying weight of 60T and 90T, and can meet the needs of large-scale open-pit mine equipment, mine safety and environmental protection, energy saving and cost reduction. TLD110 has been market-proven, and its low purchasing and operating costs, high reliability and safety are well received by end customers.