In response to the requirement raised by national government for green mine construction and to gradually eliminate&replace those equipment with high-energy consumption, bigger pollution and noise, TONLY had established the research direction of new energy wide body dump truck since 2014, meantime it started developing electric driven products. After 4 years trial operation on site and continuous improvement, TLE90 series battery electric truck was put into market in large quantities, it were mainly applied in different mines including coal mine, cement and construction materials, rock quarries,metals, water engineering and construction sites for materials transportation.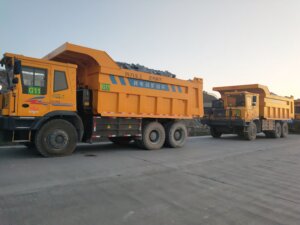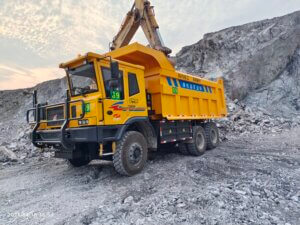 TLE90 series battery electric truck is developed by TONLY on purpose of accelerate the transformation&upgrade of equipment, promote green mine construction towards a direction of safety, high-efficiency, lower consumption, relied on TONLY construction method and combined with electric drive&power battery technologies advances. It stands out from the crowds of environment protecting and new energy equipment because of its advantages with high loading capacity, high-power and excellent performance, successfully attracts many mining customers attention. Five main advantages can be specified as follows:
1.Green and Environmental Protection
Lower pollutes discharge, fully compliance with strict national environmental protection requirements.
Using mature and reliable motor driven system, safe, efficient and large power CATL lithium iron phosphate battery(optional for 262kW•h/350kW•h), excellent high-temp performance, long lifetime, effectively solved 2 pain points of new energy products for power and battery lifetime. All these advantages leads to a stable running of entire vehicle.
2.High Transportation Efficiency(High Loading Capacity)
TL series chassis owns large loading capacity: select and use HANDE axles, bearing reaches 60T(20+35+35), entire vehicle have high modularity and low maintaining cost.
Fast battery charging: fast charge lithium iron phosphate battery with stable performance. Large current fast charge is fully complied with all-weather running requirement.
Large power charging pile: using the biggest charging power under Chinese standard: the double gun charging pile(max.charging power reaches 400A), it has a obvious charging efficiency advantage. Switching mode is used simultaneously to meet mine working requirement.
3.Comfortable, safety and reliable
Comfort: TONLY 4th generation driver's cab with nice appearance, large inner space, comfortable driving experience and good sound-insulating effect.
Front hydro-pneumatic suspension + back steel plate spring design, it effectively reduces the impact to driver&passenger in bumpy road and improves cab's comforts and vehicle's passing ability.
Safety: using double-insurance braking safety mode(mechanical and electrical feedback braking), electrical feedback braking may ensure vehicle running smoothly in downhill. If any accidents happen, mechanical braking serves as braking safeguard to make sure the vehicle's safety shutdown.
Reliable: cargo box is using a design called "four girders to descend COG", it effectively descend the COG of entire vehicle to ensure driving safety. Main plate of cargo box uses high-strength wear-resisting material which has light weight, long lifetime and energy consumption reduction features.
4.Low Operational Cost
Achieving energy recovery at loaded downhill, it can save 70%~95% cost comparing with traditional fuel oil vehicles. Using motor drive and canceling engine oil, oil and air filter, it only need to check big and small 3 electrics in routine maintenance and maintain the axles, transmission box, bearings. It largely reduces maintenance time&cost comparing with fuel oil vehicles.
5.Intelligent Mine Management
TLE90A also carries with "Open Pit Mine Transportation Management System" researched&developed by TONLY. It can get vehicle's status information and battery, motor data to achieve online real-time monitoring and early warning schedule. Totally reaches mine management intelligent, it also ensures powerful reliability for daily operation and maintenance.